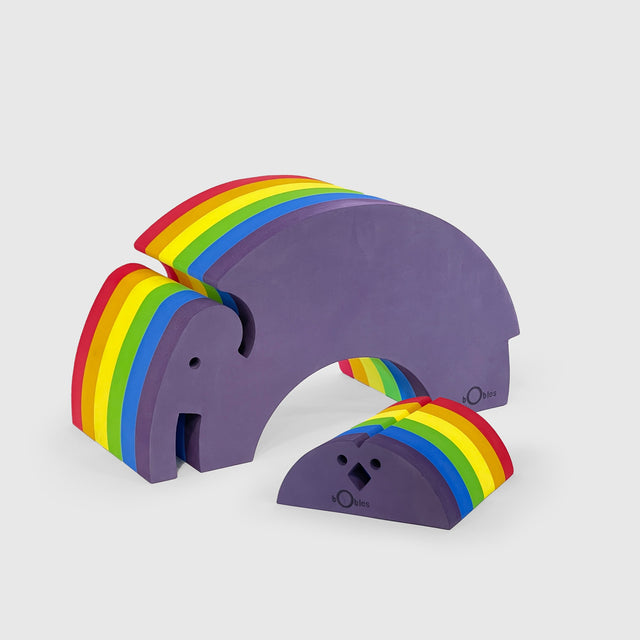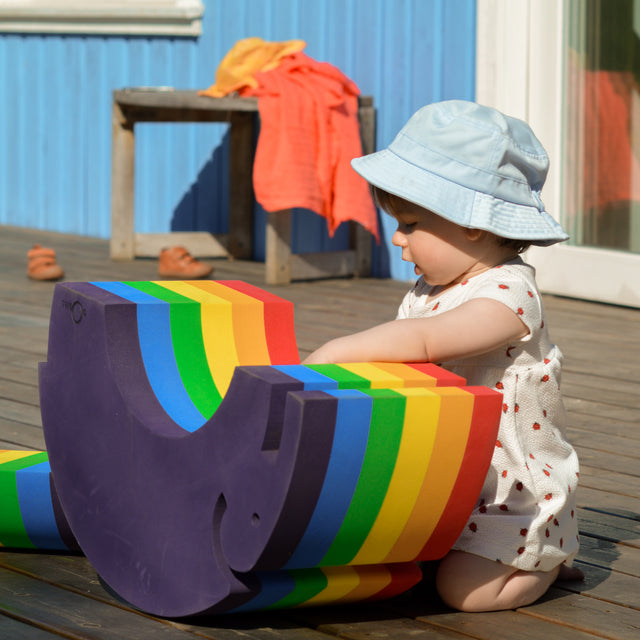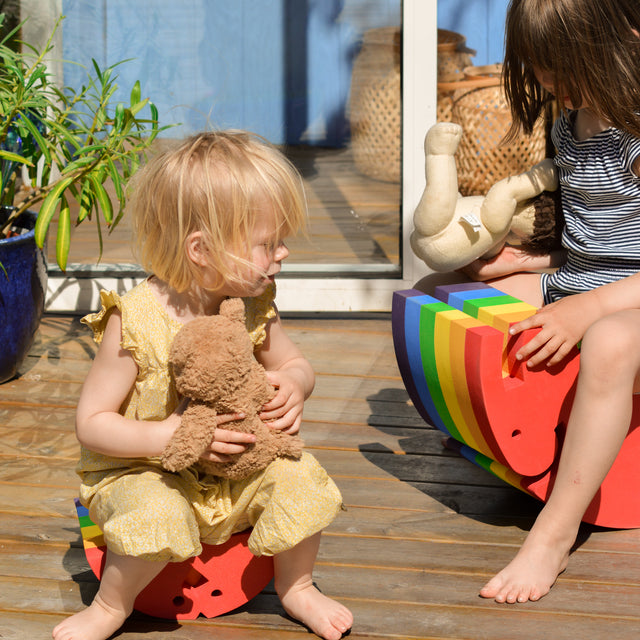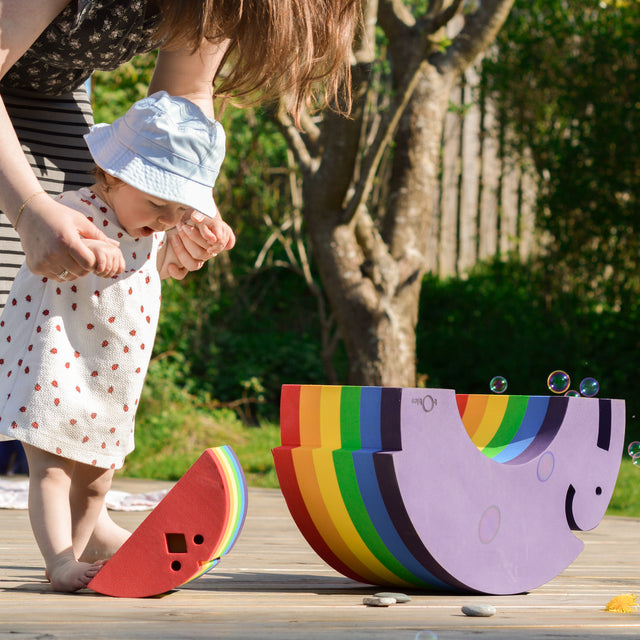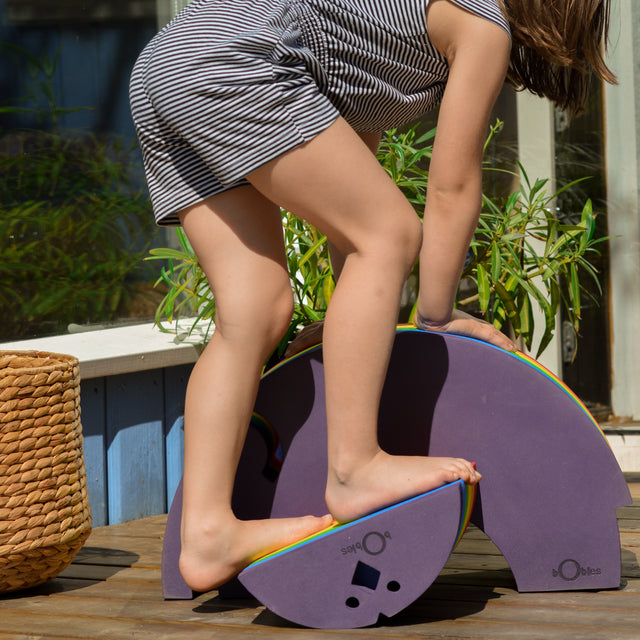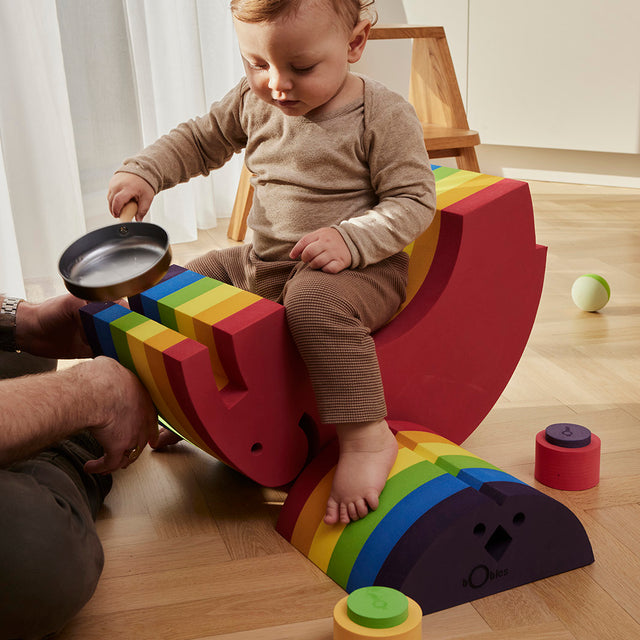 Elephant L & Chicken Rainbow
As a tribute to diversity and children's right to be themselves, we have added two new tumbling animals to our Rainbow collection, the iconic Elephant, and our bestselling Chicken. The collection is created in collaboration with Copenhagen Pride in connection with their campaign, #ComeTogether.
Elephant and Chicken are now available as a limited edition in the beautiful, popular rainbow colours, as an addition to our Rainbow collection. With Rainbow, we aim to focus on children's right to be exactly who they naturally are, and at the same time we donate part of the proceed from each sold Rainbow product to Copenhagen Pride.

With its beautiful danish design, bObles Elephant is without a doubt one of our most iconic and popular tumbling furniture to date. Its hard for us to imagine a children's room today without the elegant and multifunctional Elephant, that can help children reach the top shelf, stimulate movement, and play, or give them something fun to sit on. bObles Elephant can easily contribute to the danish concept hygge, making every child's room cozy and fun.

bObles Elephant is the perfect rocking horse and fun seesaw for children of all ages. Put together with bObles Chicken you are guaranteed hours of fun for you and your baby on maternity or paternity leave. When your baby is laying on the stomach on the Chicken and Elephant, both neck and back are strengthened while feeling the fun tilting sensation. Your toddler can try to tilt back and forth or from side to side while sitting on bObles Elephant and as your child grows bigger, dare to do the tilt standing up while balancing on your feet.

Every child should also have a bObles Chicken! It will without a doubt be your most trusted companion throughout your maternity and paternity leave, as it works wonders when your baby is practicing laying on its stomach, strengthening the neck and back.

Chicken also fits perfectly into the stomach of the big bObles Elephant making it fun and easy to tilt back and forth. As a toddler you can sit on the bObles Chicken and it will give you a fun and challenging tilt, while rocking from side to side or back and forth challenging your toddlers balance.

When your child can stand you can tilt on the Chicken standing up. And if you want to be really daring try doing it on just one leg. The whole family can join in on the challenging fun!

The natural colors are carefully chosen to create calm, sensory and inspirational surroundings for the child to play in, while also being timeless classics that can endure more than a single season, just like our tumbling furniture.

Size
Elephant: H31 x L55 x W21cm, Chicken: H11 x L26 x B24 cm
Materials
bObles tumbling furniture are made in firm EVA-foam with a soft surface, that encourages active play and sparks joy and imagination for both babies, toddlers, and children. And at the same time they function as multifunctional furniture for the entire home.
Cleaning
It is easy to clean your Elephant L & Chicken Rainbow, as bObles EVA foam is water repellent. Therefor we would recomend using soft cloth with neutral dishsoap.
You could also use lint rollers, disinfecting alcohol/hand gel or even bring your Elephant L & Chicken Rainbow with you in the shower.
Elephant L & Chicken Rainbow in use
See here how others use Elephant L & Chicken Rainbow in their decor and play.